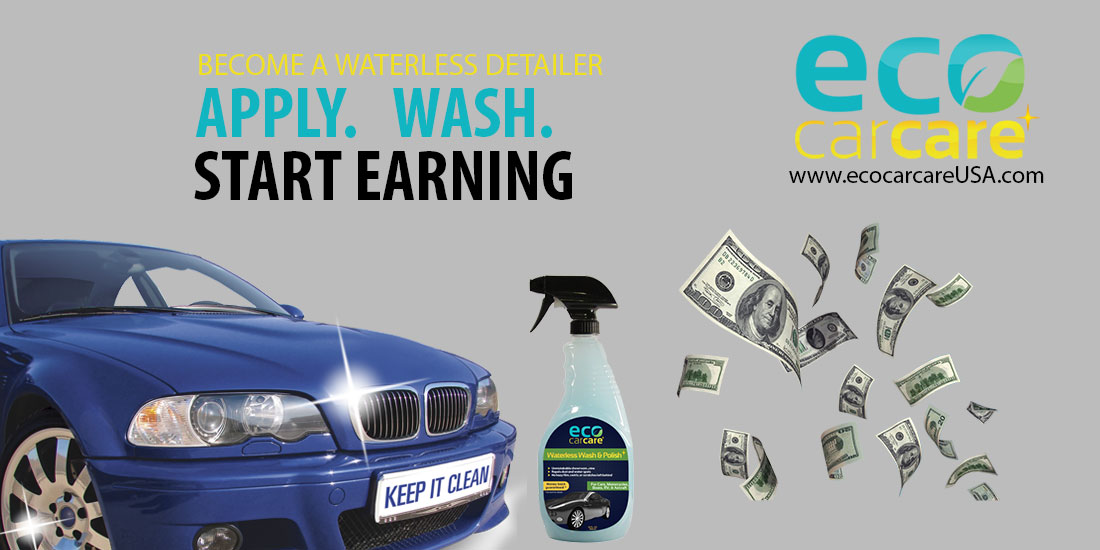 Eco Car Care is changing the way mobile detailing works forever in our local cities, and we need your help to make it happen. Eco Car Care waterless detailers choose their own hours, drive their own car, and get paid. Apply to become a waterless mobile detailer today — you could be on the road within a week!
Why Become a Waterless Mobile Detailer?
• Make up to $500/week + tips driving your own car
• No Pressure Washer required
• No Water which means you can hit Apartments, garages, and commercial businesses that don't allow water
• Get paid each week
• We Find The Clients You Do The Work
• Make even more when you find your own clients!
To Apply, You Must :
✓ Be at least 18 years old
✓ Have A Car, Motorcycle, or Bicycle
✓ Have Waterless Car Wash Supplies
This opportunity is for an independent contractor. Becoming a waterless mobile detailer with Eco Car Care is perfect for a those looking for entry level work, seasonal work, temporary work, part time work or for those looking for a flexible full time opportunity. Be your own boss, hours are completely flexible. Do mobile detailing when you want, the more waterless mobile car washes you do the more you earn. We are flexible and work with you on getting your waterless car wash products
No previous detailing experience necessary! Our product is that good!
Our mobile waterless detailers come from all backgrounds and industries ranging from driving, detailing to customer service, creative industries and general labor. If you are an actor, actress, admin, artist, assistant, barista, bartender, broker, cab driver, chauffeur, cleaner, college student, customer service agent, contract worker, designer, dog walker, entrepreneurs, fitness trainer, food services, freelancer, handyman, hostess, insurance broker, instructor, intern, janitor, maid, maintenance, messenger, musician, maid, private hire driver, realtor, retail associate, sales associate, sales person, security, server, students, teacher, tutor, valet, veteran, waiter, waitress who is looking for a flexible part-time, full-time or seasonal gig, apply to become a waterless mobile detailer to supplement your income!
Eco Car Care Supports you and will add you to our growing list of detailers!